AUSTRALIA'S wool growers have been given some fresh insights into where their levy-funded research, development and marketing body stands on sustainability and traceability.
At the Australian Wool Innovation annual general meeting on Friday, chief executive officer John Roberts said the company wasn't interested in defining sustainability.
But he said the Australian wool industry needed to take control of the sustainability narrative, or risk this being done by others.
Mr Roberts also gave an insight into where AWI saw WoolQ's role in what he saw as the need for "a seamless flow of mutual data and traceability" within the industry, linking this with biosecurity and the industry's future in competing with other land uses and other fibres.
Mr Roberts said the meaning of sustainability depended on who you talked to.
"For many consumers the meaning revolves around some kind of environmental outcome, or a supply chain that upholds certain standards in terms of effluent treatment, or adherence to the Modern Slavery Act.
"Many brands talk about it in terms of animal welfare or biodegradability, whereas many growers I talk to just simply talk about financial sustainability," he said.
"And sometimes I think people don't know what it means, they just like using the word, so it's a moving feast."
AWI, with Meat and Livestock Australia, funds the Australian Sheep Sustainability Framework, and provides strategic and secretariat support. The framework has components of caring for sheep; enhancing environment and climate; looking after people, customers and community; and ensuring a financially resilient industry. Yet Mr Roberts did not mention the framework, but put up an overhead outlining some of AWI's sustainability activities that didn't directly reference animal welfare.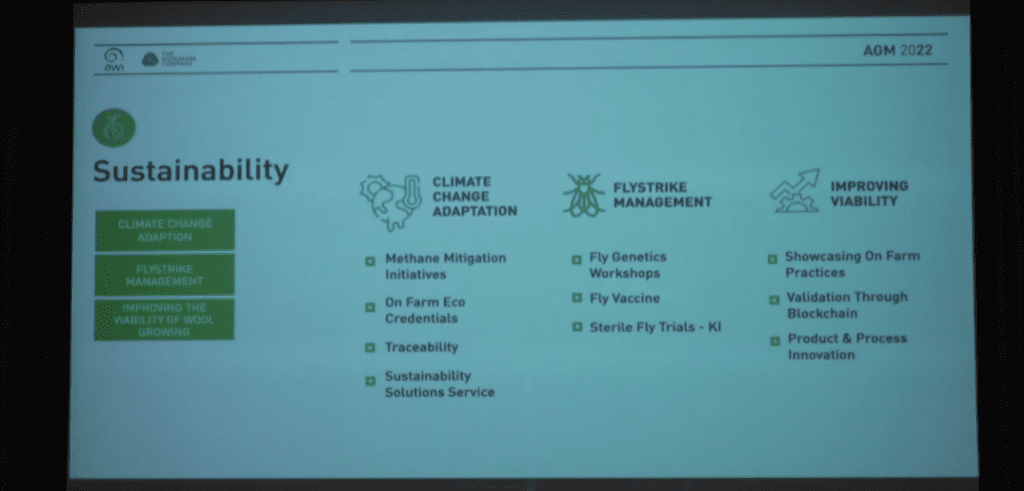 Mr Roberts said AWI is not in the business of setting targets in the sustainability space or defining what sustainability really means.
"That's up to the brands, the consumers, the policy bodies and the governments," he said.
"What we are in the business of is highlighting the outstanding eco-credentials of wool and ensuring it's not overlooked or misrepresented as this debate evolves, and we are waiting for the legislation to be put in place, so the time to work on this is right now.
"We're proud of the work we've done to this point around the Product Environmental Footprint standards and we know we've got to continue to make sure we focus on this to ensure that consumers make really informed decisions about sustainability if they are serious about it."
Mr Roberts said he recently empaneled a group of key AWI staff to start the Sustainability Solutions Service team.
"The role of this group will be to develop a strategy to future-proof our fibre and assist global customers in achieving and validating their sustainability goals.
"But also in addition to this is allowing wool growers to capture their numerous on-farm practices or eco-credentials and digitally profile them," he said.
Controlling the sustainability narrative and WoolQ
Mr Roberts said AWI believed most Australian wool growers already have a multitude of highly desirable credentials and on-farm practices specific to their regions, which are currently in many cases, not being captured or showcased.
"This can include anything from minimal chemical use to native pastures, use of pain relief or whether they are already involved in an integrity scheme or just if there sheep are free range; we never even talk about that a lot of time," Mr Roberts said.
"I think sometimes we underestimate how little our global audience know about how we care four our animals and the land, we seem to focus on the negatives; I think it's time we capture a lot of the positives we do and really showcase that.
"What is important is that the wool industry take control of the narrative in this space," he said.
"The rules and the methodology as I said haven't been set yet and we have a limited opportunity right now to position Australian wool fairly and transparently.
"One thing for certain is if we don't take control of this space, someone's going to do it for us," he said.
"The last thing we need, or can afford, is a ream of eco-legislation imposed up on us from overseas, that has little understanding or sympathy for the growing of wool and four incredible story as an industry.
"On this basis, it is critical that we work collaboratively as we an industry (as the chairman's mentioned) to agree and control this narrative," Mr Roberts said.
"We need to ensure we can provide answers for our government and for our overseas customers.
"The other focus is to ensure that this doesn't come with additional impost on wool growers; it needs to be a low-touch data-driven solution with minimal costs and admin," he said.
"We already have the building blocks within the industry, we just need to create this inter-operability and a key part of this is obviously validating these claims through solid, sound traceability.
"Unsubstantiated promises on a swing tag won't suffice going forward and our new Gen Z customers are going to demand digitally evidence attributes as key part of their purchasing decision."
Mr Roberts said AWI is going to work with industry to develop "this system" and said the company is pleased with the work done with AWEX in the consolidation of the eSpeci, representing "the start of that data journey." He thanks AWEX and AWEX chief executive officer Mark Grave for their constructive approach.
AWI has said it working with AWEX to connect WoolQ and WoolClip to provide a seamless pathway for wool production data to be collected on farm, stored and analysed. WoolQ's eSpeci and WoolClip will operate as usual until the launch of a single eSpeci solution by December this year.
"But this is just one part of this whole piece, as mentioned, there already exists a number of highly sophisticated data building blocks in the wool industry, including the work done by AWEX, AWTA and ourselves, in the form of WoolQ.
"These investments have already been made, the key is to have them working together and between each of them we will need to have a seamless flow of mutual data and traceability," he said.
"This will not only flow into commercial opportunities in terms of provenance, but it also ensure we are well prepared as an industry to combat any form of exotic disease outbreak," he said.
"I think the FMD scare we saw this year sort of highlighted the need for this and the need to actually isolate bales of wool in the event of an incursion so we can actually shut down a portion of the trade, rather than the entire trade.
"The work we've done on WoolQ traceability can have a role in capturing these credentials, but it has been built for industry and the benefit of all industry and all participants," he said.
"It can feed into the blockchain work we've done with Everledger, which we are looking forward to having available top our brand partners and our licensee parts by the middle of next year, but again it's part of the broad picture.
"We must agree as an industry whether we wish to take control of this pace, or wait for it to be imposed upon us.
"AWI's door is open, we've been moving in this space for quite some time, but we can't move alone and we strongly encourage all participants to in the industry to look beyond their own businesses and look at the betterment of the industry in the long-term so we can all remain relevant.
"We're one percent of global textiles, if that, there are highly lucrative competing land uses out there and Australian primary producers have choices, and our global customers have fibre choices too.
"We've got a product that can meet their needs, if we work together, we'll get it right.
"So I urge all stakeholders in the industry to really really come to us, we want to work with everybody we possibly can in this space because it is an opportunity."