HALF of the Britons surveyed in a recent poll would buy Australian lamb and beef more often if it was stocked in United Kingdom supermarket shelves more frequently at cheaper prices.
The new poll from the free market think tank the Adam Smith Institute (ASI) and research and strategy firm at C|T Group RSR has found Brits and Australians want to expand trade and secure a comprehensive deal.
The survey found 65pc of Britons support a free trade deal with Australia, while 5pc are opposed. There is majority support across all key demographic groups across the United Kingdom, and across the political spectrum. About 69pc of Australians surveyed supported a free trade deal, with 3pc opposed.
About 33 percent of the UK citizens surveyed said they would be probably purchase Australian lamb more often it if was stocked more frequently, and more cheaply, on British supermarket shelves. Another 19 percent said they would definitely buy more Australian lamb.
The survey found 35pc of the Britons surveyed would probably purchase cheaper Australian beef more often if it was stocked more frequently, and 15pc said they would definitely buy it more often.
The Britons surveyed also believe Australia has high food safety and animal welfare and do not want to block a deal to protect British farmers from competition. The survey found Britons wanted to buy more Australian wine, beef and lamb — and Tim Tams and Kangaroo meat. Australians want more UK cars, British cheese, and Scottish whisky.
Leading pollster and Head of Research at C|T Group RSR, Dr Michael Turner, found that Australia is the foremost priority to expand trade among Britons. This comes from a strong belief in Australia's high standards, that a deal will benefit both sides as well as the close family and friendship connections between Britons and Aussies.
The survey found two-thirds of the Britons surveyed believe Australia has high standards of food safety and animal welfare, with just 6pc of people believing Australia has low standards.
Australia is also the top priority for more trade for the Britons, with two-thirds (66pc) saying the UK should trade more with Australia; followed by Canada (63pc), New Zealand (61pc), the United States (48pc) and Japan (42pc).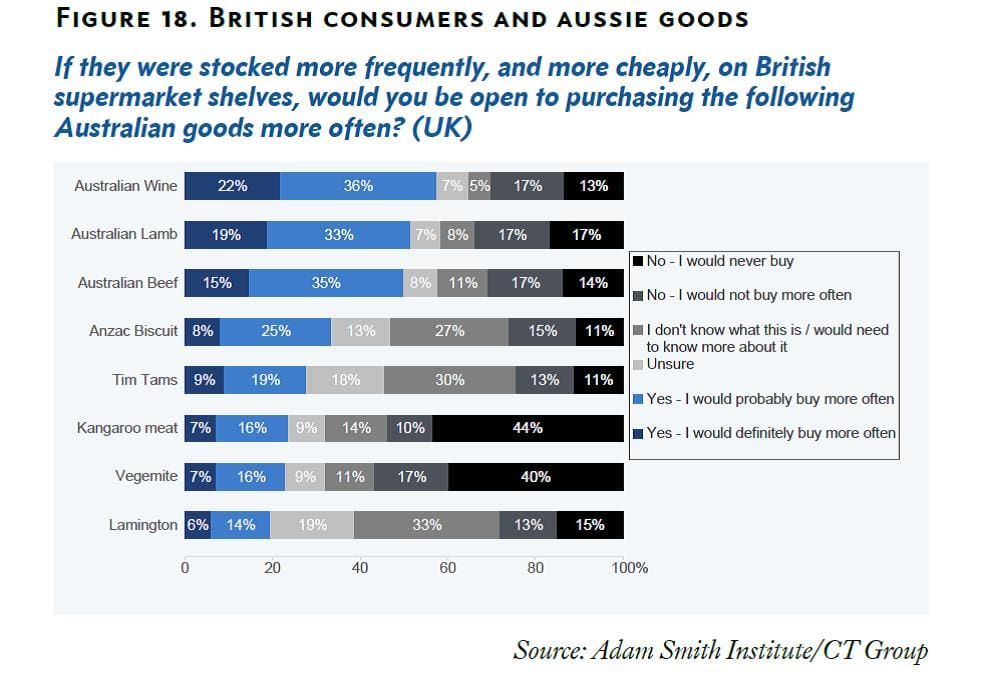 Click here to read the full survey report.