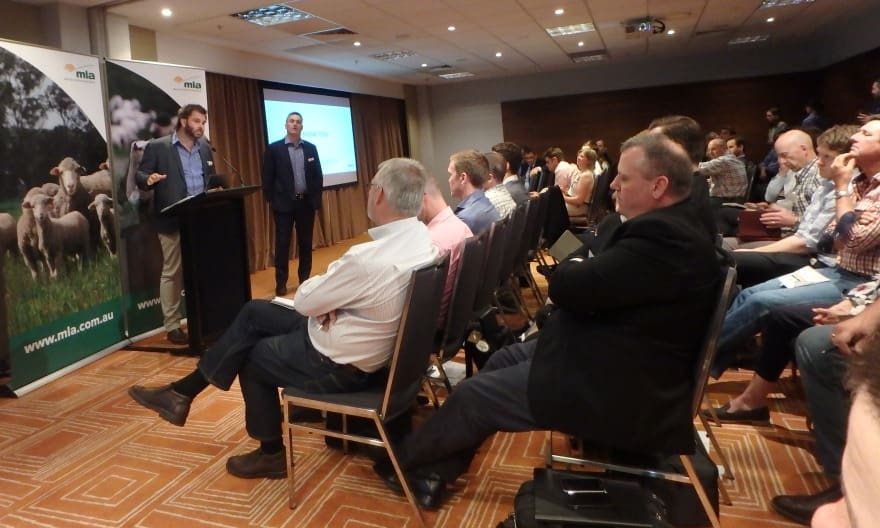 GLOBAL political issues like Brexit and the election of Donald Trump in the United States could have more influence on sheep producers than they thought.
And the news is good for Brexit and potentially bad in the fallout of the Trump election win.
Meat and Livestock Australia area managers briefed producers, processors and industry representatives in a sheepmeat Global Markets Outlook meeting in Melbourne this week, where the fallout from major international political issues was discussed.
The major concern for sheepmeat producers could be a move being considered by the Trump administration to impose a 20 percent tariff on imports.
This could have implications for particularly the Australian lamb industry, with the US importing nearly 63,000 tonnes of sheepmeat last year.
MLA area manager for the United States Rob Williams said the key message he had was there was a lot of uncertainty politically at the moment.
"The whole Trump situation is fascinating and there is a lot of intel (intelligence) about what might happen – but no one knows what Trump is thinking," Mr Williams said.
"We need to be careful in uncertain times."
Australian lamb is still popular in the US, with Australian product holding 74pc of the market share in the US.
Balanced against this was the tiny consumption, with the average US consumption of lamb just 400g a year out of a total of 120kg of protein eaten each year by the average American.
MLA trade and market access manager Andrew McCallum said it was important that Australia "did not take eyes off the trade situation."
"We need to defend what we have got," Mr McCallum said. "Trump won't do multilateral deals and there are storm clouds on the horizon."
The 20pc import tariff on lamb may not come to fruition, but Mr McCallum said a 10pc tariff had also been discussed.
"The last thing we want is trade wars on food," he said.
Opportunity with Brexit?
But the international news is not all bad.
MLA area manager for the European Union Josh Anderson said there could be potential for Australian sheepmeat exports to grow in the wake of Brexit.
"The market access changes are really exciting and there is a lot going on in Europe," Mr Anderson said.
New Zealand lamb exports had a stranglehold on the EU market with a quota of 228,000 tonnes. In contrast, Australia's sheepmeat quota is just 19,186t.
Mr Anderson said this meant any above-quota lamb going into the market at an average price of $7.90/kg would incur a $5.25 quota penalty.
As a result, just 16,471t of lamb and mutton was sold to the EU last year, valued at about $120 million.
But the potential for the market which has a population of 508 million was huge and Australia sheepmeat had the potential to gain extra market share following Brexit.
"This is an extremely wealth market and Europeans can afford protein," Mr Anderson said.
"There is a gap in the market of about 230,000t and the Brexit will open up the UK market (for Australia).
"We feel there is an extremely high opportunity to access this market."
On the agenda now is the establishment of Free Trade Agreements, both with the EU and the UK.
"There is a huge strategy in place for Brexit and work needs to be done in this area over the next six to 12 months," Mr Anderson said.
Brexit could offer opportunities to regain access to the UK market, he said.
There could also be opportunities to increase market share in the EU.
What should help Australia's negotiating position is the fact that for every 1kg of protein exported to the EU, the EU exports 2kg back to Australia – predominately pork.
"The EU market potential is extremely positive," Mr Anderson said.
MLA research shows lamb consumption has recovered since 2014 and attributed this to improved economic conditions and population growth.