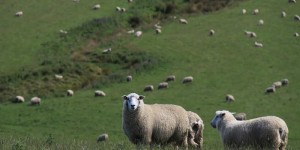 NEW Zealand sheep producers are predicted to continue to produce more lambs from fewer ewes, despite a lower lamb price forecast in 2017-18.
As the 2017-18 meat export season begins, Beef + Lamb New Zealand's New Season Outlook 2017-18 report has forecast beef and lamb prices to remain similar to the previous season despite an expected weakening of the New Zealand Dollar.
The report estimates farm profit before tax to increase 6.6 percent to $84,600 for 2017-18 on average for New Zealand sheep and beef Farms.
"This outlook sets the scene for steady meat prices and production in 2017-18," B+LNZ chief economist Andrew Burtt said.
"However, strong improvements are expected in revenue from deer and velvet, as production increases, and from wool, which is coming off low prices."
Click here to get the latest Sheep Central story links sent to your email inbox.
Mr Burtt said earnings before interest, tax, rent and manager's salary (EBITRm) per farm, which provide a benchmark for viewing farms on a comparable base, are forecast to increase by 3.1pc to $158,800.
"A slight drop in the national sheep flock was driven by a drop in breeding ewes, but this was tempered by a lift in the number of hoggets, particularly on the East Coast of the North Island."
The report said that sheep numbers at June 30 2017 provisionally totalled 27.3 million head, down 0.9pc on the previous June. This was driven by fewer breeding ewes for most regions, moderated by a lift in total hogget numbers.
The decline in numbers of breeding ewes was driven by slow recovery after drought conditions in northern South Island regions, and slow recovery in parts of the North Island after a facial eczema outbreak, which occurred in 2016, the report said. The overall increase in hoggets was largely influenced by East Coast numbers lifting due to farmers retaining ewe hoggets, which was particularly noticeable on hill and hard hill country farms.
Lamb export receipts to rise in 2017-18
For 2017-18, lamb meat export receipts are forecast at $2.56 billion Free On Board (FOB), up 1.3pc on the previous season under the US$69 cent exchange rate scenario. Lamb shipments are projected to increase marginally (up 0.5pc) as the number of lambs processed increases, and co-product export receipts are forecast to be up 7pc, the report said. For the year ending September 2018, the number of lambs processed is forecast to increase 1.1pc to 19.4 million head, despite a smaller lamb crop (down 1.3pc) reflecting the reduced proportion of ewe replacements kept in 2017-18 compared to 2016-17. At the mid exchange rate of US$69 cents, the annual average lamb price is estimated at 555 cents per kg for 2017-18, a 1.7pc decrease following strong prices in 2016-17 that averaged 565 cents per kg – up 10pc.
NZ wool production to increase
Total wool production in the year ending June 2018 is forecast to increase 0.9pc. For shorn wool, a higher clip per head (up 2.1pc) offsets a smaller sheep flock (down 0.9pc) and a decline in slipe wool production (down 1.6pc) from fewer sheep processed. Total wool export receipts are expected to increase by 16pc for 2017-18 compared with the previous season. This reflected poor returns in 2016-17 when average FOB value per tonne and export volume decreased by 17 and 18pc respectively. For 2017-18, the overall annual average auction wool price is forecast to increase 4.1pc on the previous year, the report said.
Outlook depends on NZ dollar
Mr Burtt said much of the outlook depended on the value of the New Zealand dollar, which is expected to ease as major trading economies strengthen in 2017-18. The New Zealand dollar strengthened in 2016-17, to average 0.71 cents against the US dollar, up 3 cents on the previous season.
"The US dollar is significant for New Zealand's export-focussed sheep and beef industry because 70 per cent of meat export volume is sold in USD-denominated transactions."
Total NZ farm expenditure is forecast to rise marginally (+0.5pc) this season. Though fertiliser prices are expected to remain steady, a lift in spending on fertiliser is expected as farmers continue to focus on improving their soils' productive capacity. The increase is expected to outweigh a reduction in expenditure on interest, and repairs and maintenance.
The report said much of the 6.6pc increase in the average farm profit before tax on sheep and beef farms results from revenue of deer and velvet (up 10pc), wool (up 10pc) and cash crops (up 4.8pc). Sheep and beef revenue are expected to remain similar as small increases in production and easing exchange rates counter softening export prices.
Mr Burtt said that while there were disruptions to the international beef market in 2016-17, demand is expected to remain reasonable this year, driven by China. Continuing tight sheep meat supplies in Australia and New Zealand, particularly mutton, are expected to support prices exchange rates the prime uncertainty, he said.
Export lamb production is forecast to increase marginally (up 0.5pc) in 2017-18. While exports to the EU, including the UK, dropped in 2016 17, the EU accounted for 36pc of exports and remained greater than China. However, China remained the largest single country market for New Zealand lamb, accounting for 33pc of volume.
Click here to read the full Beef + Lamb New Zealand's New Season Outlook 2017-18 report.
Source: Beef + Lamb New Zealand.