A KEY report into Australian Wool Innovation's WoolQ trading and data platform was provided to the Senate late last year, but only in a redacted form, an Estimates hearing was told yesterday.
Sheep Central was told today by the Rural and Regional Affairs and Transport Legislation Committee secretariat that it is in discussions with AWI to receive an unredacted copy of the EY Port Jackson Partners report into WoolQ.
However, in an awkward exchange during yesterday's hearing it became apparent that the committee's member senators, including chair Susan McDonald, were not aware until they  questioned AWI chairman Jock Laurie, that AWI had provided the redacted PJP report to the RRAT secretariat in early December 2021.
The RRAT committee has requested an ANAO audit of AWI because of its concern at the lack of transparency and accountability around AWI's failure to release an EY Port Jackson Partners report of a review of AWI's WoolQ platform, and AWI's 2pc levy preference announcement weeks before it released details on its current reserves, projected income and wool production forecasts and project commitments.
Mr Laurie said AWI has "heard that they (the ANAO) may do an audit and we are quite happy, quite prepared to work with them if they are, but at this stage we haven't had notification."
AWI 's acting chief executive officer John Roberts said AWI had now spent $6.8 million on WoolQ and it has sold 2095 bales of the 3187 bales offered.
In the hearing, Senator Perin Davey asked Mr Laurie if AWI was prepared to provide a copy of the PJP/WoolQ report to the ANAO if requested.
"The Port Jackson paper, which was part of looking at WoolQ, so you've got a copy of that at the moment?" Mr Laurie asked the senators.
"No, we don't have a copy of the Port Jackson report, that's the problem," Senator McDonald said.
"So Mr Laurie, this will explain so much, this will explain why the committee has been so frustrated and unhappy and why you've not understood why we've been so frustrated and unhappy."
"Just briefly, we asked to see a copy of that report and the board came to a briefing where they told us that we couldn't see the report and we said we are enquiring into the expenditure of government money, which you've received to pay for this report and we were told no, we couldn't see it.
"That's when we said, right, perhaps the ANAO needs to look at you."
Mr Laurie said AWI did not initially supply the PJP report to the RRAT committee because the company, EY Port Jackson Partners, didn't want to supply it.
"We then came back and said we are happy to have a look at it as long as they could take some of the names out of it," he said.
Mr Roberts then told the committee that AWI had offered a private in-camera briefing to the senators on the PJP report on 26 October during a Senate Estimates hearing and on 16 November he and a AWI staff member met with EY PJP to discuss providing a redacting version. He said AWI provided a "very minorly redacted version" to the RRAT secretariat on 10 December 2021.
"We will go back and look at that," Senator McDonald said as she was shown a copy of the report on a lap top during the hearing.
"Apologies for any confusion there," Mr Roberts said.
One senator can be heard asking "is that minorly redacted?" and then laughing, with Senator McDonald adding:
"It's fairly heavily redacted, there's a lot of big black boxes."
Another senator said: "There's more black than white."
"So we do have that report, which we will come back to you to have briefing, I'm sorry we've been having trouble getting everybody together to hold that in camera," Senator McDonald said.
"We will organise that as a matter of urgency."
In the hearing, Senator Davey referred to a letter that WoolProducers Australia had written to the ANAO indicating the peak grower body would like to see the terms of reference of the proposed audit expanded to include an audit of the governance and financial management of AWI.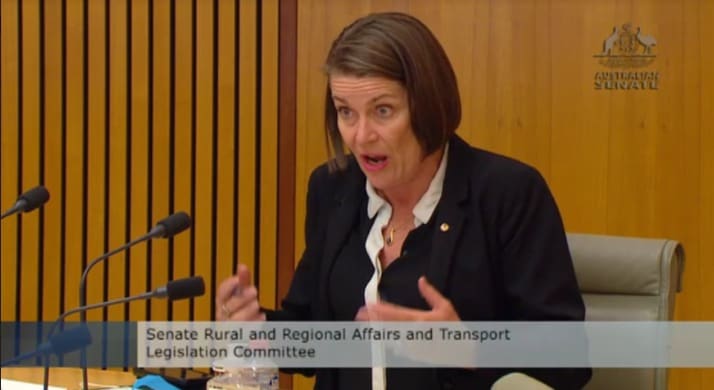 AWI chairman Jock Laurie told the hearing he had welcomed the initial suggested scope of the audit – WoolQ and AWI's 2pc levy preference – but he said the company was audited annually and also independently reviewed every 2-3 years.
"We've been very happy to participate in all of the reviews that have gone on, we are very happy to participate in the audit that goes on an annual basis.
"I can't see any reason why we wouldn't be happy to participate in an audit of the audit office wants to do one."
Senator McDonald said she understood the ANAO would try to get the audit of AWI done this financial year, but otherwise in 2022/23 "if you haven't heard from them."
"We'll wait for that," Mr Laurie said.
Senator McDonald told Sheep Central today confirmed that the RRAT secretariat had the redacted PJP report.
"We've just been trying to find a date to get everybody together to have a briefing (with AWI)."
She said the RRAT secretariat had not distributed the PJP report to the senators.
"For that reason I wouldn't have a copy to provide to you.
"I suspect it was something that fell off the action list over Christmas and we will all urgently turn our minds to finding a date and getting it done."
Senator McDonald said she wouldn't think that the committee's receipt of the PJP WoolQ report was justification for abandoning the ANAO audit of AWI.
"No, I wouldn't think so, I think that now that audit has been identified, it is still an appropriate process to go through.
"As Mr Laurie and Mr Roberts said last night, they had nothing to hide."
The RRAT secretariat said any decisions on publication of the PJP report will be made at a future time.