AUSSIE wool growers might have less than a week to get their hands on wool T-shirts designed to help promote their fibre in selected retail outlets this month.
Promotion of the wool T-shirts and the Campaign for Wool's Wool Week Australia by AWI and its marketing subsidiary the Woolmark Company started in the metropolitan media last week.
AWI today released details of the unique designer T-shirts that will be available during Wool Week Australia that runs from May 18-24. Australians have the chance to purchase a piece of fashion history this Wool Week by buying a wool T-shirt, AWI said.
Australian labels Camilla and Marc, bassike and online store Être Cécile designed the T-shirts, most of which are made from 100 percent Merino wool. All bear the slogan "I WOOL IF YOU WOOL". AWI said the limited edition T-shirts will be available until sold out. They will be marketed during Wool Week in Australia and with a strong social media push.
The bassike T-shirt is made from an 85pc Merino 25pc silk jersey fabric and retails for A$99. It incorporates the iconic bassike dot, signature twisted seams and contrast chain-stitch detailing. Bassike has outlets in Paddington, Avalon, Balmain and Mosman in NSW, and in Melbourne City and Hawksburn in Victoria.
Camilla and Marc, and hip new womenswear label Être Cécile used a 100pc Merino wool single jersey lite marle fabric. The Camilla and Marc T-shirt retails for A$99 and the Être Cécile garment sells for £45 on www.etrececile.com. Camilla and Marc has boutiques in Paddington, NSW, and Armadale, Victoria.
Bassike designers Deborah Sams and Mary Lou Ryan said Merino wool is an integral part of bassike's men's and women's collections.
"It is an incredibly versatile fibre which can be developed into anything from traditional knitwear to highly technical suiting or modern bonded wool-felts.
"Wool also transcends the bounds of seasonality due to its breathability, making it an inspiring fabrication to work with," they said.
Mary Lou Ryan said the Merino jersey T-shirt designed for Wool Week is derived from their signature heritage neck T-shirt.
"We chose to work with a Merino wool and silk blend jersey because of its super soft handle and heavy drape which complements the oversized fit of the T-shirt."
Deborah Sams said Campaign for Wool has given the designers the opportunity to further support a really important industry.
"Through our involvement we hope to further promote Merino wool as a natural yet incredibly versatile fibre that represents a significant part of the Australian Agriculture."
Win a $1000 voucher with a woolly photo
AWI said Australians have the chance to win a $1000 voucher to be spent at their favourite Campaign for Wool retail partner. Between May 18 and 24, take a photo surrounded in wool, share it on your Facebook or Instagram account, #WoolWeek and follow @thecampaignforwool to see if you've won. Winners will be announced Monday June 1.
Championing the message 'Live naturally, choose wool'
The Woolmark Company managing director Stuart McCullough said the global Campaign for Wool was initiated in 2010 by HRH the Prince of Wales, and since then has gone from strength to strength in Australia and across the world.
"The Woolmark Company continues to partner with the global campaign, encouraging consumers to discover the natural benefits of wool and make conscious purchasing decisions.
"At a retail level, we applaud all of the Australian brands who continue to support the campaign and champion the message 'Live naturally, choose wool'," he said.
Jigsaw creates online store for wool collection
Womenswear label Jigsaw is highlighting its wool-rich winter collection,  with a window display with larger-than-life giant wool heads on Jigsaw mannequins. Selected stores also feature a giant wool scarf and knitting needles that are eye-catching and inspiring, AWI said.
M Webster Holdings chief executive officer Peter Barry said Merino wool is an extremely versatile fabric that is easy to tailor and allows us to create unique textures and finishes.
"Most importantly it is effortlessly elegant and beautiful.
"At Jigsaw we love working with wool all year round and will be celebrating this leading into Wool Week," he said.
"To start the collaboration we have created a wool store for online as a one-stop destination for wool pieces from our collection."
M.J. Bale's love for wool is in the window and online
Leading tailor M.J. Bale has stylised wool windows for Wool Week Australia and its website shares the 10 reasons why they love Australian Merino wool.
M.J. Bale Brand Manager Drew Hoare said the aim of the windows was to create a strong visual impact through the iconic WOOL wording, with the use of surprising bold colours during autumn to demonstrate the fantastic possibilities available when using wool.
"The woollen outfits have been deliberately placed to be framed by the letters to ensure that the focus remains on the finished wool product; in this case our latest tailoring, knitwear and coat styles."
Parker Furniture and Workshopped chair about wool
To coincide with Wool Week Australia, iconic design brand Parker Furniture is releasing new designs in support of the Campaign for Wool.
A previously popular Parker design has been given a new lease of life and working with leading textile brand Instyle Fabrics, a new wool fabric has been used for the chair's upholstery, highlighting the versatility and natural properties of wool.
The first of two released Parker chairs will be featured in a commissioned window display at Campaign for Wool retail partner Workshopped in Surry Hills from May 18.
AFL Fibre of Football Campaign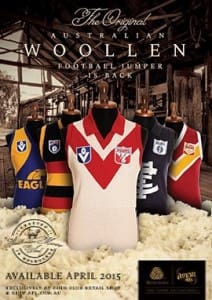 And AWI's Fibre of Football campaign has joined the Campaign for Wool team, with football supporters being urged to show their support for wool and football through the official Knit Kits and 100pc Merino supporter jumpers, scarves, beanies and gloves available at www.shop.afl.com.au More information at www.fibreoffootball.com.au.
During the campaign, football players have shorn sheep at the MCG, Merino rams have spread the love for wool before games by meeting and greeting AFL supporters and AWI has gathered a great team 'wooling' to create the first range of woollen AFL supporter gear for many years. The campaign has also illustrated how AFL stars such as Nat Fyfe and Tom Hawkins grew from their country roots to sporting stardom through exclusive videos.
Shopping night at Sydney's Macquarie Centre
Sydney's latest fashion hub Macquarie Centre will take centre stage during Wool Week Australia, AWI said.
A special wool shopping night on Thursday May 21 will feature celebrity Merino ram Fred making a guest appearance to check out the retailers' latest winter collections. In addition, Macquarie centre will play host to 40 woolly sheep sculptures along with a magnificent wool installation for shoppers to experience.
Around Australia, shop fronts are getting a woolly makeover as Campaign for Wool retail partners celebrate their in store wool merchandise with beautiful installations and window displays, AWI said.
Campaign for Wool Australian retail partners include: Macquarie Centre, Dion Lee, MARCS, Parlour X, Jenny Kee, Jigsaw, Camilla and Marc, Sportscraft, Country Road, M.J. Bale, Harrolds, Bugaboo, bassike, Être Cécile, Alice McCall, Jac + Jack, Saba, Trenery, Kookai, Sambag, Snowdrop Merino, Workshopped, Koskela, Australian Country Spinners, Woolerina, MiniJumbuk, Illawarra Feltmakers, Tasmanian Wool Centre, Metalicus, Unravelled, Jaggad, Rodd & Gunn and Emu Australia.
Source: Australian Wool Innovation.