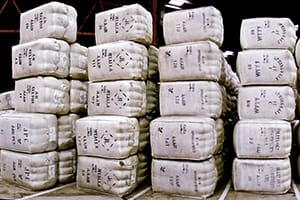 Australian wool prices retreated this week, with medium and broader microns most affected, as the $A-US dollar exchange rate lifted over US81 cents.
AWEX senior market analyst Lionel Plunkett said the finer better types maintained reasonable support on the final day of selling to be only marginally lower, but all other types and microns were as much as 20 cents cheaper.
Merino skirtings, which typically outperforms the fleece market, was caught up in the pull-back and fell 10-20 cents on the final day, he said.
Mr Plunkett said the near record 12-day rally noted last week managed to add another day to the milestone before retreating on the final day of this week.
The AWEX-EMI ended at 1235 cents, six cents lower than the previous sale after initially rising two cents before easing eight cents on Thursday. A strong opening day reduced the losses for the week.
The Australian dollar lifted 1.48 cents during the week to US81.27 to put the EMI in US dollar terms at 1004, up 13 cents. Brokers and growers offered 43,688 bales.
Opening day of selling flat
Mr Plunkett said the market on the opening day was fairly flat, with some areas showing some promise and firming slightly, while other sectors, mainly the broader microns, eased back 5 cents. Thursday took a cue from this weak tone and fell 10-20 cents, he said.
"Although the Merino sector lost significant ground, the crossbred market continued to find favour and managed to increase on previous levels to the tune of 5-10 cents."
Merino cardings also had a positive week, adding another 20 cents for the sale, he said.
"As with the rest of the market, carding prices were flat on the final day.
"Whilst still low by long-term averages, the pass-in rate responded to the cheaper market and increased to 4.8% for the week, well above the historical low recorded last sale of 1.1%."
Next week's offering is currently estimated at 42,500 bales, an increase of 24pc on the forecast made a fortnight ago.
Source: AWEX