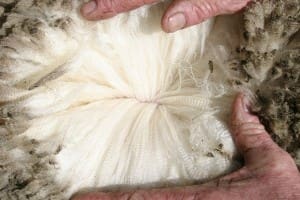 Australian wool prices rose in real terms for growers this week as a renewal of overseas interest in all Merino and crossbred types, including low spec wools, pointed to a continuing strong market after the Easter break.
Australian Wool Exchange senior market analyst Lionel Plunkett said the AWEX-Eastern Market Indicator this week closed up 12 cents clean at 1106 cents a kg, its highest level in 14 months.
With the Australian dollar at US76.33 cents, down 1.74 cents during the week, brokers passed in just 3.9 percent of the 48,019 bale offering in Sydney, Melbourne and Fremantle on Wednesday and Thursday.
Prices and A$-US exchange rate means higher grower returns
Australian Wool Innovation trade consultant Scott Carmody, said the EMI in Australian dollar terms was now 11.4pc higher than at the same period a year ago, representing 113c/kg clean more for wool grower returns.
"Whilst locally that is a very good result, the weaker Australian dollar against the US dollar is concurrently benefiting our overseas buyers and processors greatly," he said.
"In US$ terms the EMI is at a level of US844c/kg clean, which is almost 8pc cheaper than at the same time last year, or 7.9pc lower.
"A 'win-win' situation for both the buyer and seller."
Mr Carmody said the strength of this week's market is highly indicative of a renewal of interest from overseas, particularly as global supply of raw wool in front of machines is said to be at extremely low levels.
"So most participants will be anticipating a strong market on the re-opening of auctions."
Prices increase 20 cents in 19-21 micron range
Mr Plunkett said increases of 20 cents were common through the mid-range of 19-21 microns this week.
"Part-tender types came under particular attention and narrowed the price gap to the 35nkt types. "Encouragingly, the strong market continued deep into the selling week with Fremantle recording increases of 10-15 cents late on the final day," he said.
"Merino skirtings also managed valuable increases this week, although the gains were not as consistent.
"There were odd pockets where there were rises of 10-20 cents, mainly confined to the finer ranges," he said.
Mr Plunkett said crossbreds generally firmed 5-10 cents this week.
"The Merino carding indicators maintained their strong rally, recording rises between 16-27 cents.
"The new levels are at record highs in AUD terms, but are still well short of the highs made in 2011 when converted to a US dollar basis," he said.
Better superfine and ultrafine selection offered
Mr Carmody said a better selection of superfine (16.6-18.5micron) wool and a small amount of ultrafine (16.5micron and finer) Merino fleece was offered this week.
Super fine fleece gained a general 15ac/clean kg, but the lower end types actually outperformed the better end to be nearer to 40c/kg clean dearer, he said.
"The few lots of ultrafine saw the highest gains of any segment, with a couple of 15 micron spinners lots achieving 600c/kg clean higher than any price achieved this season in Sydney.
"Good top-making ultrafine types were also well sought and 50-60c/kg clean rises were seen."
The largest category offering, fine (18.6-20.5 micron) Merino fleece, got the best of the buyers' attention and money, Mr Carmody said.
"Chinese indents clashed with forward sellers throughout the selling week, and as a result, 20-25c/kg clean better prices were witnessed.
"Of most interest were the free to nearly free (FNF) types with less than 1pc vegetable matter (VM) exhibiting good style and a lower calculated coefficient of hauteur (CVH) percentage."
Mr Carmody said with the improved quality selection, prices for the lesser amount of the lower types were dragged upwards by 30-40c/kg clean.
The medium and broad (20.6-24micron) Merino fleece segment made solid gains of 5-10c/kg clean for the week, with some very good prices of 30c/kg clean dearer in Fremantle.
"Merino skirtings sold to a dearer market, with the types finer than 18.5 micron being in most demand.
"A wide range of price rises of between 5-25c/kg clean were gained, with the best style lower VM (under 3pc) lots being the dominant source of buyer interest."
Carding wools push into record levels
Mr Carmody said cardings of all types and descriptions continue to astound and pushed higher into record levels.
"The buying interest is almost in a frenzy as forward sellers are obviously in urgent need of covering outstanding commitments or looking to get into a stock and sell mode as the market is predictably moving in a positive direction.
"Types suitable to go into carbonizing are the most in demand and the most volatile this week," he said.
"Gains of a general 25-35c/kg clean on the carding indicators were extracted for the series."
Mr Carmody said open/broken top descriptions continued to trade in a similar environment to last week.
"All types were 25c/kg clean dearer with the most pressure being on sale lots of less than 2pc VM. "Some FNF lots of better length between 17 and 18 micron appreciated by up to 40c/kg clean."
Chinese indent Kathaytex (Vic) dominates crossbred buying
Mr Carmody said crossbred and comeback (25-32micron) fleece were all dearer.
"But buying was far more measured in this sector as the large Chinese indent buyer (Kathaytex-Vic) maintained its dominance in this area by securing 35pc of the wool volume on offer.
"Prices in general rose 5-10c/kg clean with most of the attention moving towards the broader types of 30 micron plus."
The next sales after the Easter recess in the week from April 13 are currently forecast to offer 50,596 bales.
Sources: AWEX and Australian Wool Innovation