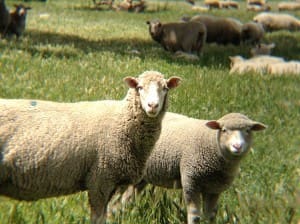 Australia's sheep flocks produced record amounts of lamb last year and they were heavier on average, but next year will be different, according to Meat and Livestock Australia.
MLA reported today that Australian lamb production in 2014 edged four percent higher than the previous year's record volume, reaching 486,465 tonnes cwt.
"Lamb slaughter also surpassed the highs of the previous year by two percent, at 22.25 million head, which was compounded by a two percent or 438gm increase in the average lamb carcase weight for the year, to 21.92 kg.
"The higher levels of slaughter and production in 2014 were the result of three consecutive years of flock expansion, followed by two years of 'below average' rainfall in most key lamb producing regions," MLA said.
Strong export prices encouraged buyers
Export prices have also been relatively strong, which has encouraged processors to continue purchasing large numbers of lambs.
When compared to the five-year averages, in 2014 Australian lamb production was 14pc higher at 59,915 tonnes cwt and slaughter numbers 13pc higher at 2.5 million head.
"The average Australian lamb carcase weight was also one kilogram heavier in 2014, in comparison to the average for the previous five year period," MLA said.
NSW led lamb slaughter increase
The overall rise in national lamb slaughter in 2014 was led by a 7pc year-on-year increase in NSW to 5.1 million, a 5pc lift in SA to 3.7 million and 8pc more lambs processed in Tasmania to 777,043 head, MLA said. Victorian lamb slaughter remained relatively unchanged in 2014 at 10 million, compared to 2013, while numbers were back 9pc in WA (2.2 million head) and Queensland slaughter eased 2% year-on-year, to 386,722 head.
MLA said lamb slaughter and production is forecast to contract considerably in 2015, albeit coming off the back of a record year.
"Lamb production is then likely to begin increasing again out to 2018, underpinned both by higher slaughter and slightly heavier carcase weights."
Source: MLA