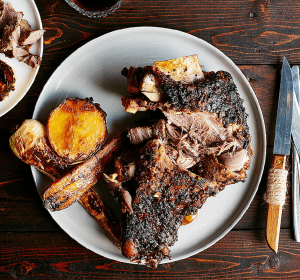 AUSTRALIAN goat meat is now on the menu in Russia, with recipes, cut options and packaging helping to broaden its appeal.
Meat & Livestock Australia said Australian goat meat has started appearing in retail shops and restaurant menus in Russia. Although not a meat traditionally consumed by Russians, goat has emerged as a niche product for the consumers who prefer healthy, lean meat.
Australia exported 42 tonnes of goat meat to Russia in 2012, and although no product was exported in 2013-2014, trade picked up again last year with another 14 tonnes exported from September 2015 to June 2016, after securing importer interest.
MLA, on behalf of the Australian goat industry, pursued promotional opportunities to re-introduce goat meat to consumers as a protein alternative, as the population still faces import embargoes on beef, pork and poultry products from some countries.
MLA supported a Moscow-based importer to supply goatmeat to the Russian market, as well as a number of retail and foodservice promotions to reintroduce different goat cuts to consumers, who traditionally had not considered goat meat as an everyday eating item.
Different packaging options were created for chilled and frozen cuts, and offered in Azbuka Vkusa supermarkets, Metro Cash & Carry and Okey hypermarkets and in 80 kebab-style restaurant chains.
Recipe leaflets for goat meat pilaf, stewed goat meat with balsamic and red wine Italian style, stewed goat meat with potato Uzbek style, baked goat meat with olives and tomato and information about the quality and safety of goat meat were put in the boxes for wholesale trading.
Other brochures were distributed among clients during the workshops and tasting sessions in major hypermarkets and supermarkets in Moscow. Australian goat meat was also present at the main foodservice exhibition in Russia – PIR show and Metro Expo, attended by about 54,000 people from the trade.
MLA's Russia-based trade representative Veronica Maximova said Russians still consider goat meat to be an exotic type of meat and not for everyday consumption.
"But after tasting Australian goat, their perception often changes and more people are willing to buy the product so we will continue to hold meat sampling events where we can."
Restaurants in the capital, Moscow, have also begun offering various goat meat dishes experimenting with different cooking methods and flavours paired with goat meat.
In the next 12 months, MLA, together with the importer, will continue to build awareness of Australian goat meat and expand on retail and restaurant promotions in other urban centres in Russia including St. Petersburg, Novosibirsk, Rostov, Krasnodar and Sochi.
Source: MLA.