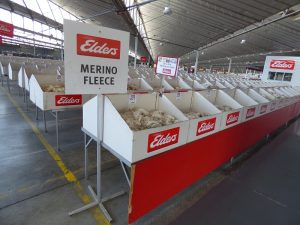 AUSTRALIAN wool prices held their ground despite increased supplies on the auction market this week.
AWEX senior market analyst Lionel Plunkett said it was the first sales series of the 2017/18 selling season, after a review of the AWEX market indicators in each region.
"Due to a continuing fining of the Merino clip, the fleece component is now slightly finer in the northern, southern and western Indicators.
"As a result, all four headline indicators (including the AWEX-EMI) have had their closing 2016/17 season levels revised, increasing by between 17 and 25 cents."
Mr Plunkett said despite the largest national offering since Easter – 51,150 bales — the market held up remarkably well this week.
"The (rebased) benchmark Eastern Market Indicator closed the week at 1524 cents clean, a reduction of only one cent under the revised (MPG) formula."
The EMI in $US lost nine cents to close on US1158c/kg clean, as the $A-US exchange rate fell 0.55 cents to US76 cents. Brokers passed in 7.4pc of the national offering.
Click here to get the latest Sheep Central story links sent to your email inbox.
Mr Plunkett said the opening sale is traditionally one of the larger of the season as growers looking to sell into the new financial year place their wool onto the market.
He said the Fremantle market had more significant falls than either Sydney or Melbourne, but it's offering of predominantly 20 micron and coarser attracted excellent competition, resulting in an overall clearance rate of 94 percent.
"The skirting market went against the trend of the fleece sector and managed to generally record rises for the week.
"Buyer focus was centred on the lower vegetable matter content (<3.0pc vm) wools and those exhibiting excellent length and strength results," he said.
Finer crossbred wool in demand
Mr Plunkett said the finer micron clips performed reasonably in the crossbred market, with 26-28 micron lines recording modest rises for the week.
"The 30 to 32 micron wool, however; eased by an average of 5 to 10 cents, with the better prepared lines least affected."
Mr Plunkett said most types and descriptions in the oddment sector generally fell by 10 to 20 cents, which was reflected in the three carding indicators dropping by an average of nearly 17 cents.
Cheaper market expectations not realised
Australian Wool Innovation's weekly market report said buyer expectations of a cheaper market this week went largely unmet, with all types and descriptions recording just minor adjustments downward.
"The selling week commenced with buyers basically bidding to a level through the Merino fleece section, and not pushing to buy at all.
"As such, prices slowly drifted without cheapening that much, AWI said.
"From the outset of selling, the main Chinese indent operator seemed to be more active than the past month or so.
"The largest volumes seen at auction for a few months was no deterrent as that operator accumulated volume rapidly."
The AWI report said it soon became apparent to the indent operator's competition that the company was not slowing in its purchasing intent.
"So those local trader exporters had to exercise more muscle in order to acquire inventory to settle sold positions or provide future trading fodder.
"Apart from the top two buyers, it appeared that most buyers of Merino types had a very similar attitude in their purchasing strategies."
AWI said most buyers were focused on sticking rigidly to the buy-in price levels they had in mind, rather than volume.
"New business was reported as being sporadic early in the week, but as auction prices failed to fall away as expected, more and more interest was being shown by overseas users.
"By the close of selling, demand had appeared again and looks set to take the wool market into a very solid conclusion next week."
Next week sees more than 47,000 bales will be offered and expectations of a good market are commonplace, AWI said. A three-week recess in auction sales in Australia will follow.
Click here for details on the AWEX review of the market indicators and micron price guides.
Click here for the latest AWEX Micron Price Guides.
Sources: AWEX, AWI.