SUBDUED demand greeted a 20 percent increase in sheep and lamb numbers to 108,883 head on AuctionsPlus last week.
Average prices improved for shedding breed and composite lambs, Merino wethers, shedding breed ewes and Merino ewe hoggets, but all other categories either showed no change or lost value.
AuctionsPlus said the steady supply of sheep and lambs onto the market was greeted by subdued demand, resulting in another week of volatile price movements.
Post-auction negotiations again proved a popular option for buyers to lock in sales, with clearance rates lifting by 16pc on Tuesday's immediate close of sale, to sit at 50pc by late Thursday.
The National Lamb Sale registered 54,868 head offered across 184 lots – accounting for 51pc of the weekly offering. Three out of the six lamb categories registered a decline in average prices, with shedding breed and composite/other breed lambs rising on last week.
AuctionsPlus offered 22,348 crossbred lambs, and post-sale negotiations lifted clearance rates to 72pc, up from 52pc achieved at the immediate close of sales. The average price dropped $4 to $112. At Orange in New South Wales, a line of Poll Dorset cross mixed sex store lambs weighing 44kg lwt sold for $151.
Merino wether lamb numbers rose by 23pc to 13,829 head, but the spike in listings failed to be absorbed by buyers, with only 46pc cleared by late Thursday, up from 31pc at the immediate close of auction. The average price eased by $21 to $81. A line of 330 Merino wether suckers at Grenfell, NSW, weighing 39kg lwt, averaged $116.
The Merino ewe lamb offering lifted to 4323 head. Prices ranged from $74-$142/head to average $106, and the final clearance rate was 63pc, up from 41pc following Tuesday's sale. At Maaoupe in South Australia, 265 Poll Merino ewe lambs weighing 30.6kg lwt made $142.
The offering of first cross ewe lambs rose by 31pc to 6390 head, and the average price dropped $19 to $163. At Navarre in Victoria, 112 first cross ewe lambs weighing 43.7kg lwt sold for $156. The category's clearance rate settled at 23pc, as buyers looked for quality breeding lines, AuctionsPlus said.
Composite and other breed lambs in strongest demand
Composite and other breed lambs sold to the highest demand across the lamb categories, wth the clearance rate reaching 82pc by late Thursday, up from 50pc at the immediate close of sale. The offering of 5172 head was back 44pc. AuctionsPlus said the reduced offering spurred a $6 increase in the average price to $112. At Morgiana, Victoria, 108 Cashmore Nudie wether lambs weighing 43kg lwt made $132.
The National Sheep Sale had a total of 51,174 head listed across 246 lots. AuctionsPlus said the reduced demand made the establishment of true market indicators a difficult task.
The 3488 shedding breed ewes, up 31pc, was the largest offering in the joined ewe categories. The average price for the category rose $44 to $209, as several high-quality lines contributed to the higher average, AuctionsPlus said. Topping the category was a line of joined 14-18 month-old Australian White ewe hoggets weighing 54kg lwt at Appila in SA. The 250 ewes were split across two even lines and made $492.
Unjoined ewe numbers rose considerably, with Merino ewe hoggets up by 94pc and Merino ewes lifting 59pc. Following a similar trend to the remainder of the sheep and lamb market, prices remained subdued, with post-sale negotiations helping to lift initial clearance rates, AuctionsPlus said. Going against the trend, the average price of the Merino ewe hoggets rose $23 to $216 for a clearance rate of 35pc late Thursday, up from 20pc at the immediate close of sale.
Merino ewes averaged $16 cheaper at $170, as the 16,298 head offered experienced the positive effects of post-sale negotiations. The clearance rate more than doubled to 42pc by late Thursday, up from 20pc at the immediate close of sales. At Nareen in Victoria, a line of five year-old Merino ewes, weighing 61kg lwt sold for $76 above reserve at $186.
Unjoined shedding breed ewe listings rose by 17pc to 4197 head, and averaged $3 higher at $222/head. The clearance rate reached 57pc, the highest across all unjoined ewe categories. At Diggora in Victoria, three even lines of 11-12 month-old Australian White ewes made $312-$318. The ewes were sold to two buyers; in northern Victoria and NSW's Riverina region.
Note: Prices as at 5pm, Thursday 8th December 2022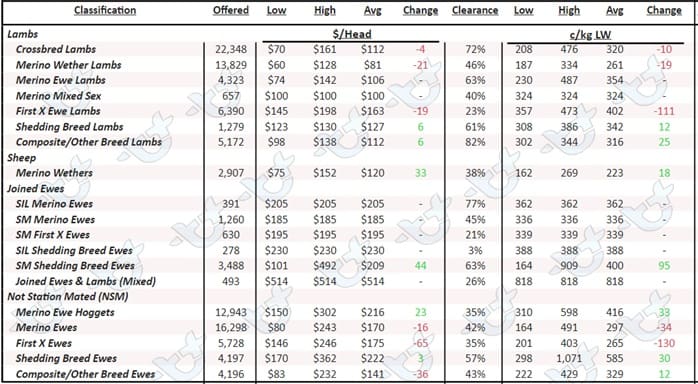 Source – AuctionsPlus.