AuctionsPlus sheep and lamb listings this week saw the lowest offering since early January 2021, with just 32,257 head offered.
The smaller offering for the week was reflective of current producer sentiment, with many producers reportedly looking to hang on to stock until the warmer months arrive.
Lamb offerings were hit with the impacts of selective buying, while the joined ewe market registered higher prices and mixed clearance rates.
Crossbred lambs were again the largest category for the week, with 9232 head accounting for 29 percent of the total offering. Prices averaged $130/head, up $7 on last week, with the category selling to strong demand and registering an 83pc clearance.
From Mendooran, NSW a line of March '22 drop White Suffolk/Border Leicester/Merino mixed sex lambs averaging 41kg returned the top price for the category at $161/head.
Merino ewe and wether lambs both eased on last week with post-sale negotiations across both categories lifting clearances. Merino ewes saw 1069 head offered, easing $12 on last week to average $146 with a 61pc clearance late Thursday.
Merino wether lambs saw the 4725 head offering ease $2 on last week to average $104, post-sale negotiations lifted the clearance rate from 45pc at the immediate close of sale to 73pc late Thursday. A line of Poll Merino May/Jun '22 drop wether suckers from Truro, SA, averaging 26kg, returned $90/head.
Joined ewe listings accounted for 20pc of the catalogue this week. SIL Merino ewes saw 1555 head offered, back 66pc on last week, achieving an 82pc clearance. Prices ranged from $145-$257, to average $180 – easing $1 from last week.
From Dirranbandi, Queensland a line of rising seven-year-old Merino ewes 62kg, SIL to Border Leicester rams, returned $165 and are headed south to a buyer in NSW.
SIL first cross ewes registered the largest offering across the joined ewe category this week, with 2136 head offered. Easing $8 on last week, the category averaged $246/head, with post sale negotiations seeing the clearance rise from 65pc at the close of sales to 73pc late Thursday.
Topping the category at $323 was a line of 21-22-month-old Border Leicester/Merino ewes averaging 65kg, SIL to Border Leicester rams, from Billimari, NSW.
SIL shedding breed ewes registered a small offering this week, totalling 888 head. Strong post-sale negotiations saw the clearance reach 100pc late Thursday following a 45pc clearance at the immediate close of sales. Prices were up $131, to average $451/head.
A stronger offering of SM shedding breed ewes saw the 1079 head achieve a 75pc clearance, with the category averaging $201 – up $56 on last week.
From Condobolin, NSW a line of Oct/Nov '21 drop White Dorper ewe lambs SM to Australian White lambs, 55kg, returned $280/head.
Unjoined ewes accounted for 24pc of the offering this week with 7701 head, as prices rose across two of the four categories, while the clearance rates sat higher than last week.
NSM Merino ewe hoggets saw the strongest price rise for the week across the unjoined categories, with the 1569 head averaging $281 – up $68, with a 40pc clearance.
NSM Merino ewes saw 2096 head offered, with prices remaining steady on last week averaging $136, with a 64pc clearance. From Lameroo, SA, a line of rising six-year-old Poll Merino ewes averaging 60kg returned $157.
NSM shedding breed ewes saw prices ease on last week, back $41, to average $192. Clearance for the category was strong, with the 2654 head achieving an 82pc clearance.
From Beverly, WA, two lines of Kojak/White Dorper and Dorper cross August '21 drop future breeder ewe lambs averaging 41kg, returned $224 and are destined to head across the Nullarbor to a buyer in NSW.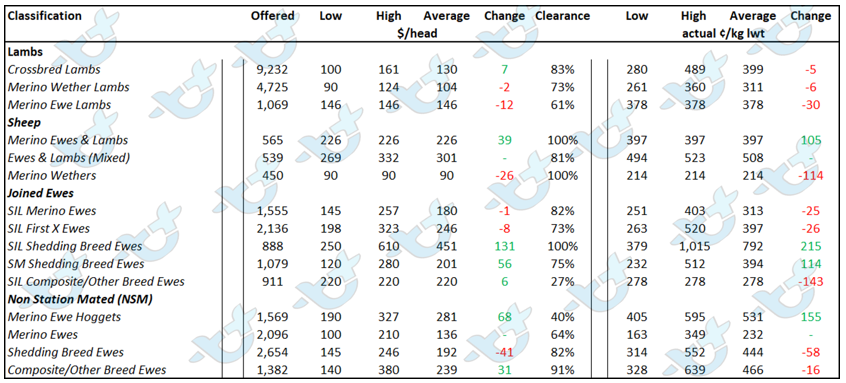 Source: AuctionsPlus