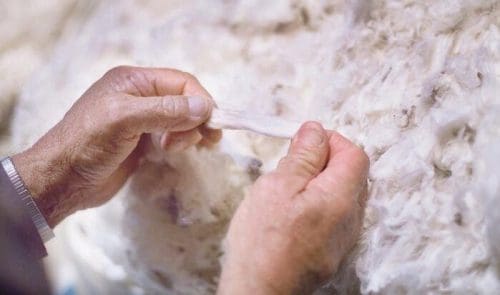 The AuctionsPlus online offer board doubled sales to 318 bales last week, with the most buyer interest shown in fine and medium Merino lines.
Buyers bought 92 bales of 18 micron wool, that sold for up to 1280c/kg greasy, or 1763c/kg clean. The 45 bales of 21 micron wool sold made up to 839c/kg greasy, or 1257c/kg clean.
The top-priced lot sold online was a 17.9 micron AAM Merino fleece line that sold for 1320c/kg greasy, or 1815c/kg clean. The lot had an average staple length of 128mm, with 0.6pc vegetable matter, and was offered by Elders – Victoria under the 'Banool/RL' brand.
AuctionsPlus said the national wool auction offering fell by 3981 bales to 50,603 last week after 13.6pc of the catalogue was withdrawn before the sale. The AWEX Eastern Market Indicator rose by 6 cents on Tuesday and a further 2 cents on Wednesday to close the week at A1285c/kg, or US977c/kg in US dollar terms.
The passed-in rate for this week dropped significantly to 9.4pc, indicating higher demand and confidence in the market, AuctionsPlus said.
AuctionsPlus said shipment delays are becoming more constant and shipping notice times are becoming shorter, which will make it extremely difficult for overseas markets to capitalise on the current price of wool.
AustrionsPlus said these logistical issues will dampen the recovering wool price if they are not addressed. Despite this, the selling week closed strongly, and supply remains high moving into next week with over 48,000 bales expected to be offered.
Source: AuctiobnsPlus.