THE forward wool market remained quiet as auctions recommenced this week after a three-week recess.
Exporters reported one of the quietest breaks on record with minimal activity coming from offshore.
This was reflected in the forward markets with grower levels that were maintained at closing cash not sparking any interest from the buyside.
The opening Tuesday confirmed everyone's expectations, with most Merino qualities losing between 3-6 percent for the week. While some of the decline can be attributed to the large supply coming of the break, the macro effects of further lockdowns in China and logistic challenges remain the drivers. A strong Australian dollar has also magnified the falls with the US dollar losing 4.5pc over the recess. This is reflected in the chart below.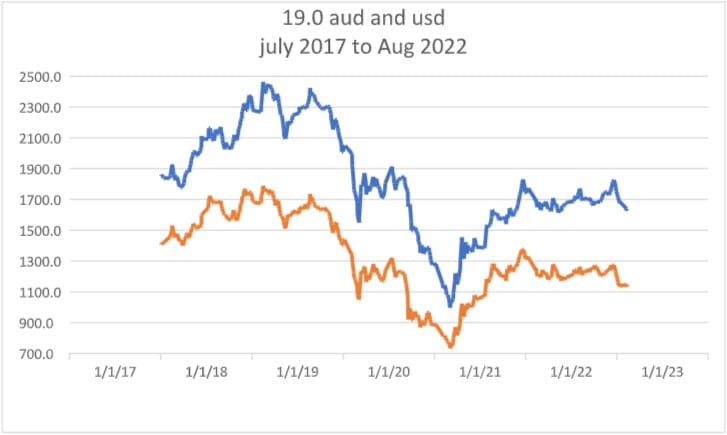 The forward market remained quiet as exporter looked to gauge support levels. Bidding returned to the final quarter of 2022 with the 19 micron contract bid at 1600 cents, trading to a high of 1615 cents on Wednesday. This reflects the channel of the last 18 months, which has seen the AWEX 19 MPG range from 1540-1826 cents.
We are yet to see forward interest returning for 2023. Hopefully this will return over the next two weeks as we churn though the current flush of supply.
Growers looking to hedge into the New Year will probably need to revaluate levels in the short-term in this current higher risk environment. Pre-Christmas buyers still remain keen to balance their books but new orders remain at a gentle pace.
Recent trades
18 micron June 2023                                      2000 cents                              6 tonnes
19 micron November 2022                            1615 cents                              5 tonnes