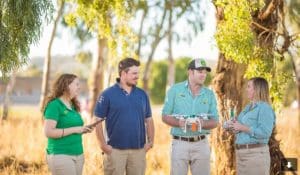 MORE than 300 expressions of interest have been received in the 2018 AgriFutures Horizon Scholarship since applications opened in January.
Australian university students studying an agriculture-related degree have less than one week to apply for the 2018 scholarship by Friday, February 23.
The $5000 bursary for two years of a student's undergraduate degree offers professional development opportunities and a gateway to industry networks and leaders.
Attracting young people to rural careers is vital.
AgriFutures Australia managing director John Harvey said to build prosperous and sustainable rural industries, it is important to focus on the next generation of leaders.
"The population of China and south-east Asia in particular is rapidly growing, which offers opportunities to the agricultural sector, as well as a number of significant challenges.
"In order to feed this growing population, Australian agriculture has the potential to become a $100 billion industry by 2030," he said.
"In order to achieve this, we need to ensure a career in agriculture is an attractive prospect to the youth of Australia.
"We need to showcase the dynamic industries and diverse job opportunities to the younger generation, and the AgriFutures Horizon Scholarship is just one program out there helping to make this happen," Mr Harvey said.
The scholarship provides a professional development pathway for students, targeting specific skills and industry knowledge so they are career-ready when they graduate from university. Along with the bursary, scholars complete annual industry placements, which in the past has taken students as far as San Francisco. Scholars are exposed to a range of professional contacts and networks throughout their time in the program, including opportunities to attend industry events, gaining vital knowledge and insights into a range of rural industries.
The scholarship is awarded to students in their first two years of an undergraduate degree. Students will have the chance to apply for a second scholarship for the final years of their degree. Applicants must be studying an agricultural related degree. Students studying Science, Technology, Engineering or Maths (STEM) degrees with a link to agriculture, or a selection of agriculture subjects, are also eligible to apply.
In addition to industry scholarships, there are three additional and unique AgriFutures™ Horizon Scholarship scholarships on offer, sponsored by Westpac. These are available for students in their final two years of study within a banking or financial planning services discipline, including agribusiness, with a keen interest in agriculture.
Successful 2018 scholars will also visit a school of their choice each year they are part of the program, enabling them to educate younger students about the agricultural sector and the career opportunities available.
Applications close at 5pm AEDT Friday, February 23, 2018. Shortlisted applicants must be available for a telephone interview in March 2018, and scholarship recipients will be announced in May 2018.
More information, the online application form and full terms and conditions can be found at agrifutures.com.au/horizon
Current sponsors of the AgriFutures™ Horizon Scholarship: Australian Eggs, Australian Wool Innovation, Cotton Research and Development Corporation, Dairy Australia, Grains Research and Development Corporation, Horticulture Innovation Australia Ltd, McCaughey Memorial Institute, Meat & Livestock Australia, Westpac and AgriFutures Australia (Rice and Chicken Meat research programs).