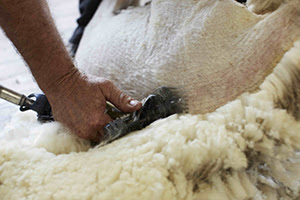 AUSTRALIA'S shearing industry does not know the extent of drug and alcohol use in wool sheds.
But there have been enough anecdotal reports for Shearing Contractors Association of Australia secretary Jason Letchford and other industry leaders to appreciate there is a problem.
Although there is no data to indicate the extent of drug use in the industry, Mr Letchford is hoping an inaugural drugs and alcohol summit in Adelaide on May 24 will flesh out the conversation the industry has to have.
Mr Letchford said anecdotally, the shearing industry might appear to be "higher in the averages" on drug use.
"One of the goals of the summit is to just make people realise that we are assuming there is an issue, but we don't know the extent of it.
"Therefore we need to put measures in place that address it in such a way that it is picking up the people we do know about and the people we don't know about, and go back to education and awareness."
Click here to get the latest Sheep Central story links sent to your email inbox.
Mr Letchford said one of the summit's four guest speakers will include the Alcohol and Drug Foundation's national workplace services manager Natasha Jager, who will give community statistics on use and discuss how other industries have approached the problem.
"I personally believe it is about leadership; it's about everyone including farmers to show the leadership to engage a solid shearing contractor they can trust or to engage their own workers, but putting someone in charge who is capable, responsible and trustworthy as a genuine leader.
"But let's not assume that leadership is inherent, so therefore we need to look at education and training to give people skills to be a good manager and supervisor," he said.
Industry needs a road map
The summit will include an open forum for summit delegates to raise issues before breaking up into groups to discuss potential action. A facilitator will summarise the group feedback to consolidate an action plan.
"It's a cliché, but we need a bit of a road map for where we go after 2017," Mr Letchford said.
Other guest speakers include SafeWork SA advisor Jacqui Quarton, former shearing contractor and TAFE SA shearer training co-ordinator Glenn Haynes, and New Zealand shearing contractor Ewan Mackenzie.
The SCAA is a member of a wool industry stakeholder reference group that has developed a policy for managing drug and alcohol use in the workplace that will be presented at the summit. Other members are the National Farmers' Federation, the Australian Workers' Union, WoolProducers Australia, the Australian Wool Exchange and the Western Australian Shearing Industry Association.
The group is developing a policy for managing drug and alcohol use in the workplace that will be presented at the summit.
The summit will be held at the Arkaba Hotel in Adelaide from 9am-3pm. Wool growers, contractors, shearers, shed hands, shearing suppliers and safety professionals are encouraged to attend. For more information and to RSVP contact the SCAA on [email protected]