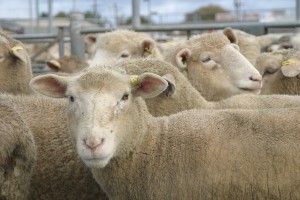 Lamb prices finished last week mostly unchanged across the country.
The lower prices kept supplies out of some markets in areas with good seasons, but buyers bid strongly for quality in the larger yardings where producers cut numbers or when extra competition pushed rates.
The National Livestock Reporting Services' trade lamb indicator finished the week at 498c/kg, with the heavy lamb indicator at 509c/kg and the mutton indicator at 316c/kg, both slightly up.
AuctionsPlus market operations manager Tony Benson said new season lamb prices were yet to show a full recovery on the drop a few weeks ago and were steady on last week.
"Though this may indeed be the price mark in the short term until bigger numbers stabilise the market."
AuctionsPlus sold 42kg Border/Merino suckers out of Wee Waa for $112 last week, 39kg first crosses made $97 and second crosses weighing 33kg made $91.50.
Sheep buyers were increasingly selective, as fairer quality lines are turned off as the dry winter persists.
"The sheen has finally come off the market for older scanned ewes, with those able to restock at present thinking beyond this spring." (See the latest AuctionsPlus market report in Sheep Central's markets pages here)
A sample of store sheep prices on AuctionsPlus last week include unjoined young Merino ewes $111 to $146; scanned proven breeders for spring lambing $110 to $151; Collinsville blood two year olds in lamb to
White Suffolk and Border Leicester $161.50; first cross ewe lambs $133;  young scanned ewes $179 and ewes joined to Poll Dorsets $131.50 to $138.
Most New South Wales lamb and sheep saleyards mid-week yarded fewer stock, including at Goulburn on Wednesday, where the National Livestock Reporting Service said numbers dropped 1200 to 1600, with a limited selection of new season and well-finished trade lambs.
With some buyers absent, most lambs eased around $5/head, though better finished trade weights averaged $9 a head dearer, to be firm for weight and quality.
NLRS said New season trade weights made $98 to $114/head to average 470c/kg cwt. Light old lambs 16-18kg made $60 to $70 and trade weights made $80-$110. The few heavy weights made $100 to $115/head, averaging 400c to 450c/kg cwt.
Demand was significantly weaker for sheep, with prices slipping $10 to $15/head over most categories. Light 2 score ewes made $38 to $50, medium and heavy weights ranged from $50 to $79/head. Most mutton averaged 230c to 280c/kg cwt.
At CTLX, Carcoar, on Wednesday, the drop in sheep numbers to 1850 was made up with more lambs, 4154. NLRS said a limited supply of new season lambs sold to $118/head or around 530c/kg cwt.
Quality dropped lightweight older lamb prices $6, as prices ranged from $38 to $75/head. Trade weights lifted $2 to $6, from $88-$116, to average from 446c to 473c/kg cwt. Heavy weights gained $5, with lighter lambs making $105-$129 and the heaviest reaching $145. The carcase weight range was 495c/kg-502c/kg.
NLRS said mutton prices eased $10 to $15, with medium and heavy weights ranging from $48-$84. The 2 to 4 score sheep suitable for the processors averaged 224c/kg-292c/kg cwt.
Sheep and lamb numbers dropped at Wagga on Thursday, as producers reacted to last week's cheaper trend, NLRS said. There were 25,700 lambs, down 4100 and 7900 sheep, down 3100, including reasonable trade lamb supplies and 6850 new season lambs.
Heavy lambs were in limited supply, not all major export companies operated fully. The 24kg-26kg lambs sold a few dollars dearer, while extra heavy lambs lifted $4 to $9/head to average 506c/kg cwt, with the best making from $144-$174/head.
Restockers and lot feeders paid from $89.20-$115/head for well-bred new season lambs. Fewer old trade lambs lifted demand, with all buyers keen to capture the better finished, shorter skinned lambs, NLRS said.
The better-shaped trade lambs (22-24kg) made $128-$138/head to average 533c/kg cwt. Bidding was strongest for medium and heavy trade categories with prices $7 to $8/head dearer. Medium and heavy lambs made $128-$140, to average 551c/kg cwt, with skin values of $6 to $9/head. Light weight 1 and 2 score lambs made from $65-$80/head and the better-finished Merino lambs ranged from of $74 to $116/head.
Mutton numbers declined moderately in a mixed quality yarding, with all weights and grades represented. NLRS said Merino ewe mutton sold to steady demand, with prices generally unchanged to $3/head dearer. Crossbred ewe prices eased slightly and heavy grades averaged 279c/kg cwt. Heavy Merino wethers for slaughter sold from $90-$114.20, while a pen with an estimated carcase weight of 35kg made to $120. Light weight sheep sold $5-$8 dearer, averaging 286c to 335c/kg cwt. Turnout wethers to turnout sold from $75-$86.20.
NLRS said numbers and prices lifted at Griffith on Friday, up 5108 to 14,600 for lambs and up 1621 to 5000 for sheep, including 6000 mostly well-finished new season lambs. penned, with most well finished. The usual buyers were present and competing in a dearer market.
An extra domestic buyer helped lift new season lamb prices which lifted prices $4 to $5/head. Trade weights sold from $112-$136 and heavy weights made $132-$144 with carcase prices averaging 494c/kg-556c/kg. Old light lambs  averaged $73, while trade weights held steady and sold from $85 to $116/head, NLRS said.
Heavy and extra heavy weight lamb prices were up $3, with the heavies making $114-$133 and the heaviest $129-$176.
Merino ewes sold from $74-$97, Dorper ewes from $75-$93 and Merino wethers from $74 to $92/head.
At Cowra on Friday, lamb and sheep numbers lifted with 3700 well-finished young lambs. Light new season lambs to restockers averaged $43-$78, with medium and heavy trade weights firm at around 526c/kg cwt. Most heavy trade weights made $115-$123/head. The heavy weight young lambs were firm at around 503c/kg cwt, with a pen of 26kg lambs making $134.50.
NLRS said trade weight old lambs were firm and averaged 473c-505c/kg cwt or $94-$103. Heavyweights were also firm at around 480c/kg cwt, with a few pens making from $130 up to $138.50.
Medium weight first cross ewes were up to $7 dearer at Cowra, averaging $62, while heavy wethers averaged $79.70/head or 300c/kg cwt.
In Victoria, with the new season lamb turnoff barely started and a good season, sheep and lamb numbers were down, except for at Shepparton.
Hamilton's Sheepvention expo cut numbers to 966 for lambs, down 1244 and to 252 for sheep, down 1245, on Wednesday.
NLRS said with the small numbers penned and buyers not being able to fill a truck, the reduced competition led to light weight lamb prices dropping $10, trade and heavy weight rates falling $15-$20 and sheep selling mainly $5-$8 easier.
Light weight 2 score lambs made $40-$55, light trade weights 2 and 3 scores ranged from $57 to $70/head and medium to heavy weight 3 score trade lambs sold from $62-$82 to average 365c/kg cwt. Heavy weight 4 score lambs made $80 to $84/head or around 340c/kg cwt.
Sheep averaged 310c/kg cwt with most medium to heavy weights selling for $70-$90.
Horsham agents yarded 1121 lambs, down 694 and 1943 sheep, down 64, on Wednesday. Restockers paid to $62.50 for lambs, from $72-$95 for longer wool crossbred ewes and from $45-$76.50/head for Merino wethers.
NLRS said light weight 1 and 2 score lambs sold from $52 to $70/head and the light trade 2 and 3 scores from $75 to $101. The 3 and 4 score trade weights made $114-$132.50, within a carcase weight range of 500c/kg-550c/kg and average of 520c/kg. Heavy lambs sold to $144 and heavy hoggets made to $95.
Light weight 1 and 2 score sheep sold from $40-$68.50 and medium weight 2 and 3 scores made $58-$80.50, or from 280c/kg-340c/kg carcase weight to average around 320c/kg. Heavy 3 to 5 score sheep made from $66-$84.50/head. Heavy Merino wethers sold from $83-$94 with medium weights selling from $62-$72.
At Shepparton on Friday, NLIS said agents yarded just 630 lambs and 250 sheep, with recent price falls and the favourable season creating little incentive for locals to sell.
Local restockers paid $75-$83 for late spring drop store lambs. The 134 new season young lambs yarded sold from $112 for the better 22kg-plus lambs and up to $124 for a pen estimated at about 25kg carcase weight with a $7 skin. The mainly plain young lambs averaged 460c/kg-470c/kg cwt.
The few better quality pens of old lambs over 22kg sold from $101-$122, with top lots averaging around 450c/kg cwt. Plain trade weight and lighter kill lambs sold from $76 to $97/head.
Sheep sold from $28 to a top of $82.50/head for extra heavy crossbreds, with the few pens of better lines of Merino and crossbred mutton estimated at around 310c/kg cwt, NLRS said.
In Western Australia on Wednesday, Katanning agents yarded 4066 mainly plainer lambs, up 1313, and 3978 sheep, 1146 fewer.
Very few lambs were suitable for processors, with most pens fillwed with Merinos suitable for restockers and feeders.
NLIS said the few new season lambs sold up to $10/head cheaper on quality with 18kg-20kg lines making $85-$105. The small yarding of plainer   trade weight old lambs were up to $12/head cheaper. The 18kg to 20kg old lambs sold from $75 to $106, while a few over 20kg made $90-120.50.
Trade weight Merinos were $1 cheaper with those over 18kg selling from $78.50 to $95/head. Lightweight Merino lambs suitable for the air freight market were $5 to $9 cheaper, with the 16kg-18kg lines, selling from $70-$83.50.
Merino lambs to restockers were $5-$7 cheaper with most making $27-$55, while lambs for feedlotting sold from $55-$80.
In the mutton pens, plain conditioned ewes were up to $6 cheaper with 2 score ewes selling from $35-$79.50/head. Better medium and heavy weight ewes were firm to $3 cheaper with the over 18kg 3 and 4 scores selling from $65-$95.50. The 2 score wethers sold from $40-$77 and up to $78/head.
The better 3 score wethers generally made $72-$82, while some very heavy crossbred wethers sold for $100. Merino rams sold to $46 and crossbreds to $45.50.