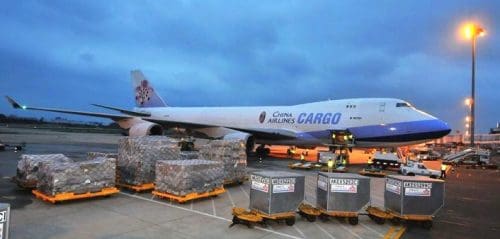 AUSTRALIA'S red meat sector has welcomed the Federal Government's $110m funding commitment to secure secure freight flights into key export markets, but  exporters are awaiting clarification on how it will work.
Beef Central first wrote about the emerging airfreight export crisis in this article published on 24 March.
The cancellation of international passenger flights into, and out of Australia as part of COVID-19 management saw airfreight of chilled red meat exports to Asian and Middle Eastern destinations grind to a halt a fortnight ago. The overwhelming majority of perishable food cargo leaving Australia by air goes in the holds of passenger aircraft – not dedicated freight aircraft.
The reduction in airfreight capacity due to international domestic flight cancellations has led to job losses among some red meat exporters.
The Federal Government has announced a $110 million commitment to assist exporters and tourism, potentially helping Australia's agricultural and fisheries sector export their high-quality produce into key overseas markets, with return flights bringing back vital medical supplies, medicines and equipment.
Deputy Prime Minister Michael McCormack yesterday announced that $110 million would be committed to the International Freight Assistance Mechanism to help secure freight flights into Australia's key export markets.
"This will help restore key freight routes for our farmers until commercial capacity can be restored again," he said.
In 2019, the value of the export receipts for meat and livestock air freight was worth in excess of AU$1.2 billion.
COVID-19 has disrupted airfreight supply chains
Federal Trade Minister Simon Birmingham said the COVID-19 pandemic had led to major air freight shortages and had disrupted supply chains around the world.
"This temporary action will help Australian producers to protect the jobs of those who rely upon Australia's export of safe, quality food into the world," he said.
However, Mr Birmingham said the $110 million comprised an extra $49.8 million into the Export Market Development Grants (EMDG) program in the 2019-20 financial year, supplementing the $60 million already committed to bring EMDG funding to its highest level in more than 20 years at $207.7 million for the 2019-20 financial year.
The new EMDG funding would allow exporters and tourism businesses to get additional reimbursements for costs incurred in marketing their products and services around the world. Any business which has incurred eligible EMDG expenses for promotional activities in 2019-20 financial year will be able to seek reimbursement for 50 percent of these expenses without the Export Performance Test applying, when they apply from July 1.
"We recognise the current COVID-19 crisis is placing immense pressure on Australian exporters and tourism businesses, many of whom felt the earliest and deepest aspects of the economic downturn.
"This funding injection will put more cash in the pockets of thousands of Australian businesses when they need it most," Mr Birmingham said.
The government said the International Freight Assistance Mechanism will initially focus on the key markets of China, Japan, Hong Kong, Singapore and the UAE, with four key departure hubs: Melbourne, Sydney, Brisbane and Perth. It will be overseen by the new International Freight Coordinator General Michael Byrne. Mr Byrne has significant international logistics experience as managing director of Australia's two largest logistics companies Toll Holdings and Linfox plus as a non-executive director of Australia Post. He will work with Austrade to help establish arrangements with exporters, airlines, freight forwarders and industry bodies plus oversee the mechanism's operations including advising the government of destinations, freight selection and prioritisation.
Processors and trader want details
Tasmanian Quality Meats managing director Brian Oliver welcomed the government announcement but was yet to see details on how it could rejuvenate airfreight shipments of lambs that had been stalled for about five weeks. Up until the COVID-19 pandemic hit, TQM was exporting about 6000 chilled lamb and mutton carcases to the Middle East each week. The abattoir has had to lay off 44 casual workers at its Cressy processing plant, near Launceston.
"It will mean something if it means something, but a couple of the traders I talk to thought the airline won't be too interested unless the government paid the $4 billion complete bail-out.
"I don't think anyone knows how it is going to work and when it will take place."
International meat trader Kevin Nole said exporters did not yet know how the funding would help. He said due to just a few aircraft coming to Australia, lamb airfreight costs to the Middle East had tripled from $1.30/kg to $6/kg.
"And that is going to kill it because there is we were doing 150 tonnes this might go down to 20 tonnes, because it is going to be so close.
"The major supermarkets in the Middle East have said, we are not going to stock Australian product anymore," he said.
He said exporters want clarification on the government's $110 million announcement.
"We want to know how it is going to work – it makes the headlines and looks very good, but how it is going to work, that is something else."
EMDG scheme will support export costs
Mr Birmingham said the EMDG scheme has been a popular vehicle to support the costs associated in reaching new markets, and this additional funding will give Australian exporters and tourism businesses extra help in these tough times.
"It means businesses within the scheme who have spent their own money to market and grow Australian exports will receive more of that money back, up to 50 percent of their total eligible marketing expenses," he said.
"Getting our export sector back on its feet is crucial to reduce job losses through the crisis and a critical part of the ultimate economic recovery.
"By getting flights off the ground, full of Australian produce, we're supporting our farmers and fishers who have been hit hard by this crisis."
Federal Agriculture Minister David Littleproud said the initiative would focus on high-demand agricultural and fisheries exports who have been hit hard by the COVID-19 crisis.
Australian red meat bodies support airfreight initiative
Red Meat Advisory Council independent chair Don Mackay said it was crucial that new and innovative approaches to supply chain management were introduced to ensure agrifood export demand is met as a pillar of the Australian economy.
"Continuity and affordability of air export capacity to our valued and high-end export markets in China, Japan, Hong Kong, Singapore and the UAE is critical."
"We congratulate Mr Michael Byrne on his appointment to the role International Freight Coordinator General as a commercially driven touchpoint to move our air freight supply chains forward."
"High value air freight channels are an important part of ensuring profitability and diversity of markets for everyone in the supply chain from the exporters back to the producer. We thank the government for providing this service which will be openly competitive for all exporters of high quality, high value Aussie red meat."
Australian Live Exporters Council CEO Mark Harvey Sutton said red meat supply chains are crucial for Australian and global food security.
"Measures such as this recognise our responsibility as a nation a nation to supply the highest quality produce both domestically and internationally.
"Livestock exports are shaping as a key component of our trading partners food security and we welcome measures that will deliver consistency in our freight systems and fulfil our global responsibilities," he said.
Australian Lot Feeders Association president Bryce Camm said the continued ability for our meat processors and exporters to deliver high quality Australian grain fed beef to our customers provides feedlot operators confidence to keep cattle on feed.
Australian Meat Industry Council chairman Gary Hardwick said AMIC greatly appreciated the work undertaken by ministers Birmingham and Littleproud, and their teams on the important outcome.
"Their commitment to export during this unprecedented time ensures that our members continue to access markets to underpin their businesses."
Cattle Council of Australia CEO Travis Tobin said keeping a diversity of markets would make sure red meat producers were viable during the COVID-19 outbreak. The initiative will also help keep the economy going in rural communities and keep locals in work, he said.
"We send 73 percent of our beef overseas – those markets are the reason cattle producers can make a profit.
"This means farmers can afford to produce high-quality red meat for customers at home and overseas."
Sheep Producers Australia chair Chris Mirams said the announcement is of critical importance to Australianproducers who supply high value sheep meat product globally, but especially to the Middle East which is around one fifth or 20 percent of our total exports.
"It is not only vital for Australia's exports, but provides food security or our trading partners."
Total airfreight beef exports from Australia last year reached 29,540 tonnes (2.5pc of the total), while lamb and mutton exports, dominated by a major trade into the Middle East, totalled 62,223 tonnes.